Opinion by Bill Burton · February 11, 2021
Originally posted on CNN here.
(CNN) Wednesday marked the 334th day since our world shrank. In our house, we start the count on March 13, the last day the kids had school, the day of our last in-person meetings and the last day I wore dress shoes. Practically speaking, that means Wednesday's breakfast marked our 1,000th meal in captivity.
After who knows how many thousands of eggs, pounds of ground turkey and boxes of wheat rotini we've gone through, it has certainly had its culinary challenges. But the upside is that we learn more about each other every single day. For example, about 40 weeks in, after baking salmon on a weekly rotation, I learned my wife does not, in fact, like salmon.
Not many of us would have chosen this isolation, the tragedy of Covid-19 or what the politics of last year put us through. But looking for silver linings — as I'm sure all of us are trying to do — I've seen how having 1,000 meals with the people most important in my life has brought us closer together.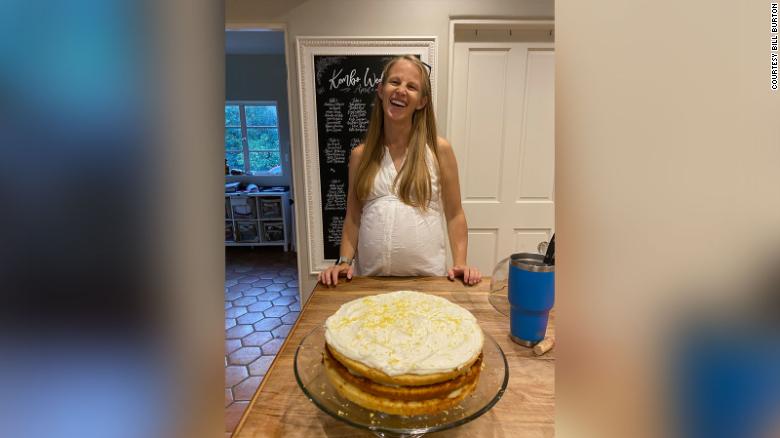 Bill Burton's wife, Kelly, in front of her birthday cake during lockdown.
As we all eagerly await for the return of being able to be together again, I'm reminded of a Hebrew word for wait, qavah. (And while I do have a year of college Hebrew under my belt, it was my pastor who reminded me about it on Sunday.)
The figurative meaning is "eagerly waiting." The literal meaning is "binding together," like making a rope or braiding hair. For many of us, I think those two meanings — embracing those closest to us, while we await with hope what lies ahead — capture where a lot of us are.
I know that for so many, this period has been isolating in ways that have been crushingly depressing. Great loss — in many forms — has been the reality of many people. Economic disparity has widened and work-life balance has been blurred. None of my silver linings reflection is to suggest that everyone has had a rosy 1,000 meals in TV family comedy-scripted joy — and, to be clear, ours have not always been that.
And even as we have been braiding ourselves together, we still eagerly await a time when we can be together with others.
I was reminded of how universal this feeling is while watching one of this year's best Super Bowl ads (the 90-second version online anyway). It was from Annheuser-Busch, and it showed vignettes of people coming together in what used to be ordinary moments, light and hard — neighbors shoveling snow, strangers stranded in an airport, colleagues pushing through a late-night meeting. In each one, they share a beer that emphasizes what is expressed in the tagline: "It's never just about the beer. It's about coming together."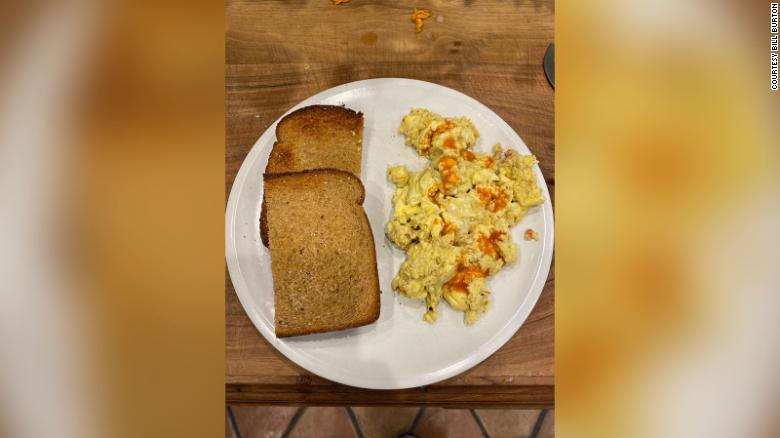 Bill Burton's family's 1,000th meal during lockdown was scrambled eggs.
My company had a client who last year wanted to explore running a spot on the Super Bowl — so I know that the inventory was such that CBS was pushing for decisions on advertising by about Thanksgiving. (Reddit clearly was able to pick up a last-minute spot and they truly made the most of it.) Practically, this meant that companies were making decisions during penultimate moments of grief and tragedy in our country. Our former President was tearing the nation apart with the specter of not leaving office, the death toll from the virus was spiraling upward and there still was no vaccine.
You can see why, in this period, some of the biggest brands ultimately decided not to run Super Bowl ads. They looked around and saw a country crushed by sickness, death and division, and I'm sure they figured that spending millions of dollars celebrating their products would seem out of touch. Maybe they were right.
I count myself extremely lucky to have a loving family to share this isolation with — and after 1,000 meals, I look forward to 100,000 more. But I still do miss those spontaneous moments of connection that only happen when we're out in the world, trying hard, living fully, and leaning on each other in ways big and small.
So today, while millions of Americans have been vaccinated, and the news is boring again under a new administration, I'm counting my blessings. And still holding out hope for the larger community that I miss. I'm both nestled with the people I love most and waiting — qavah — for when we can all be back together again.